MARTINU REVUE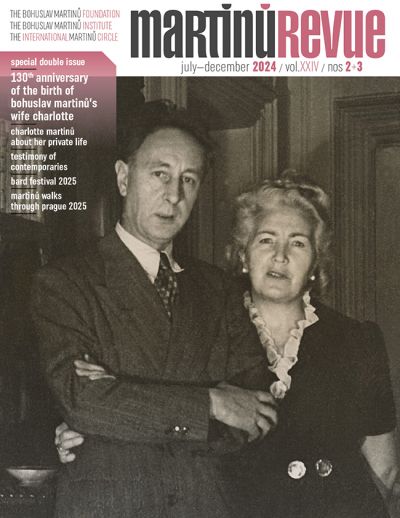 MARTINU REVUE
(formerly The Bohuslav Martinu Newsletter)

In cooperation with The Bohuslav Martinu Institute, the Martinu Revue has been published since November 2000. Until January 2009 the Revue appeared under the name The Bohuslav Martinu Newsletter.
ISSN: 1803-8514

The Revue is an English-language bulletin that provides news from the Bohuslav Martinu world. It includes interviews, research articles, reviews and event listings in addition to miscellaneous new items.
---
Since 2001 the Revue has been published three times a year and it enjoys an ever-expanding world-wide readership. Here you can find a list of issues.

ADVERTISE IN OUR NEXT REVUE! For details write to us at incircle@martinu.cz
Contact :
International Martinu Circle
Boranovicka 14
18200 Prague 8
Czech Republic
E-mail: incircle@martinu.cz