Information
Library of the Bohuslav Martinu Foundation and Institute
The library is open to the public every working day by appointment only.
E-mail: zoja@martinu.cz
Phone: +420 2 57 32 00 76
More information:
The mission of the library is to obtain, process, maintain and make accessible all possible materials which will provide those interested in Bohuslav Martinu's life and work with sufficient background information in order to facilitate the continuous study and dissemination of his work. In order to be able to assess Bohuslav Martinu's personality and oeuvre within the context of the time in which he lived and worked, the resources of the library are focused on a whole range of issues in 20th-century music. The Library of the Bohuslav Martinu Foundation shall primarily serve musicologists, students and researchers, but it is also open to those of the general public who are interested.
Characteristics of the Library Resources
The Library contains about 2,000 Czech and foreign language book materials (specialized monographs, biographical data, dissertations, diploma projects, anthologies, etc.) and subscribes to approximately 30 titles of national and international musical periodical; it also collects articles from newspapers and journals. It provides basic international music dictionaries (such as The New Grove Dictionary of Music, Die Musik in Geschichte und Gegenwart, Komponisten der Gegenwart, Universal-Handbuch der Musikliteratur) and general encyclopaedias.
The acquisitions are carried out upon the recommendations of prominent musicologists with a view to the requirements of Martinu Institute employees. The library has been greatly enriched by the purchase of the estate of the outstanding Czech music writer, teacher and director, Edvard Herzog. Thanks to the library's acquisitions and regular purchases abroad, visitors will find unique titles here which are hardly available to other libraries.
Resources include an ever-growing audio and video archive, specializing in Bohuslav Martinu recordings from all over the world (about 200 records and 300 CDs) as well as pieces by Martinu's contemporaries and composers who extraordinarily influenced him. Visitors thus can compare various interpretations of works. The library collects copies of documentary films and diverse unique non-public and historical recordings from the archives of foreign radios and various world orchestras, as well as video recordings of concerts, opera and ballet performances.
There are printed scores and photocopies of autographs and manuscripts of most compositions by Martinu, as well as his correspondence (containing not only letters to friends and family in Policka and to his wife Charlotte, but also his correspondence with such personalities as the conductor Serge Koussevicki, Charles Munch, and Frank Rybka). Except for the Bohuslav Martinu Centre in Policka, this library is therefore the only place where it is possible to study copies of materials deposited in the collections of dozens of libraries, institutional archives and private persons from all over the world.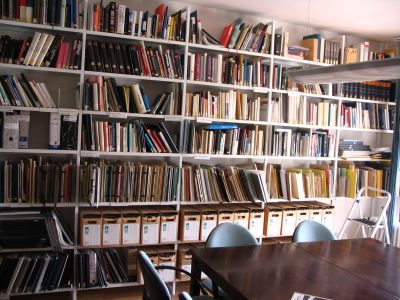 Services
All the documents are gradually being processed into the automated library systems KP-Win SQL, http://www.kpsys.cz. The main purpose of this automation is to create an easy-to-access database which will provide orientation and enable processing of any research inquiries. The program is compatible with other libraries and in future it will make it possible to connect the library with the professional catalogue CASLIN http://www.caslin.cz.
Connection to the Internet facilitates the utilization of external electronic information resources (such as library catalogues) and provides communication and professional services to those interested from all over the world.
The visitors have at their disposal musical equipment, a piano and a photocopy machine.
In view of the uniqueness and rare nature of the preserved materials, the Library of the Bohuslav Martinu Foundation offers services only on the premises.
The library is open to the public every working day by appointment only.
E-mail: zoja@martinu.cz
Phone: +420 2 57 32 00 76
Suggestions, comments and announcements about recently published or previously published materials (articles in magazines, recordings, reviews, concert programs, etc.) are welcome.