Activities
Activities of Bohuslav Martinu Institute

The main and most important project is Bohuslav Martinů Complete Edition, which is supported by Bohuslav Martinu Foundation and GA CR (Grant Agency of the Czech Republic).
Library and Information Service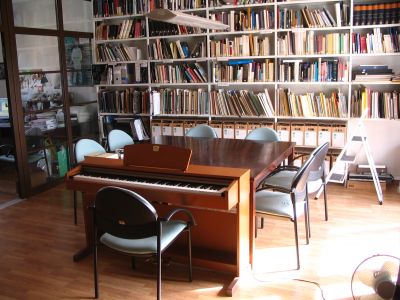 The Bohuslav Martinu Institute is compiling all of Martinu's musical manuscripts, records on compact discs; old and archive recordings; copies of manuscripts from private persons or such institutions as The Bohuslav Martinu Museum in Policka in Policka, The Museum of Czech Music in Prague, The Library of Congress in Washington, the music publishing houses of Universal Edition, Baerenreiter, Schott, Boosey & Hawkes, and many others. The Bohuslav Martinu Institute also aims to obtain secondary material sources, i. e., concerts and opera programme leaflets (materials on Bohuslav Martinu from the Archive of the National Theatre in Prague), plus the extensive correspondence with significant personalities (Stanislav and Karel Novak, Vaclav Talich, Elisabeth Sprague Coolidge, Frank Rybka, Serge Kussewitzky, Rudolf Kundera and others), etc. Last but not least, the Institute's Library is acquiring books, periodicals and magazine articles and reviews.

The Institute provides an information service on the live and work of Bohuslav Martinu. The contact with musicians, musicologists and admirers of Bohuslav Martinu work who are seeking further information about compositions, correspondence, pictorial documents, premieres and other events regarding Bohuslav Martinu, is mediated mainly by e-mail, phone and mail.
It is possible also to visit personally Bohuslav Martinů Institute Library, which is open every working day. Pleas contact us in advance by e-mail (martinu@martinu.cz), if you want to visit us.

Martinů Revue. An informational bulletin in English published three times a year in co-operation with the International Martinu Circle (IMC) If you are interested in receiving the Revue please contact incircle@martinu.cz
On-line database of sources of Martinů's works. Information on compositions, correspondence, photos and drawings, in Czech and English:
On-line library catalogue: https://katalog.martinu.cz/
REGULAR PROJECTS
The Bohuslav Martinu Institute (BMI) helps to organize and promote the annual Bohuslav Martinu Festival which represents the biggest project of the Bohuslav Martinu Foundation (BMF). From 1995 it has become a regular part of December cultural life in Prague. The BMF publishes a representative but non commercial CD compiled from the festival concerts with the selection of the Bohuslav Martinu compositions.

Since 1996 till 2003, BMI (in cooperation with both Czech and foreign musicological institutions) organized International Musicologist Colloquy, concerning further than Martinu's life and work his ancestors, contemporaries and followers, as well as more general subjects like of history, fine art and literature. Most recently, the main subjekt of IMC has been preparation of the critical edition of Bohuslav Martinů's work. Reports from previous years of the conference are published in an annual report entitled "Annual report of the Bohuslav Martinu Foundation" (Jahrbuch der Bohuslav Martinu-Stiftung), from 2000 published by Peter-Lang Bern, the publishing house.