Bohuslav Martinů and Polička
The Bohuslav Martinu Centre offers an interesting, interactively conceived exhibition on the composer's life and work. It was opened on 4 April 2009, the author of the new exhibition is Jaroslav Mihule. The project also comprises a reproduction of Martinu's classroom, complete with period paintings and furniture.
The modern display of Bohuslav Martinu's life and work is located in the historical building of the former council school, which Martinu attended as a child.
The first exhibition about Bohuslav Martinu took place in Policka in the middle of 1930s, the second one was created in 1984.
The archive is a priceless part of the Bohuslav Martinu Centre. It consists of an extensive and unique collection of 250 pieces of sheet music and sketches, correspondence (about 1000 collection items), photographs, theatre and costume designs and other documentary material related to the composer's life and work.
The core of the archive consists of the estate of Charlotte Martinu, Karel Sebanek, Milos Safranek and Germaine Leroux. There is also fragment if Bohuslav Martinu's personal library held in the archive.
The birthplace of B. Martinu in the tower of the Church of Saint James

This is where Ferdinand Martinu's family of six members lived, and where the youngest child - Bohuslav Martinu was born. The composer's father worked as a municipal tower keeper and a shoemaker. On the church wall there is plaque of B. Martinu by Josef Kadlec. The tower is 36 metres high and it has 192 steps. It is open daily from May 1st to September 30th except Mondays and Sunday mornings. It is possible to visit the tower only with a guide. The visit can be arranged by appointment for days when the tower is not officially open.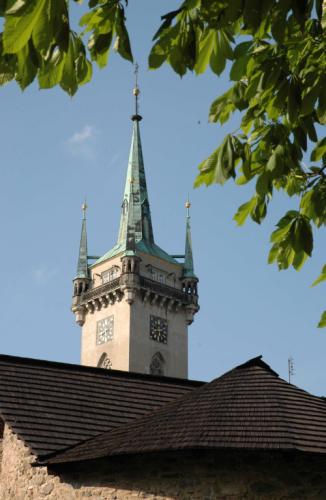 Contact:
The Bohuslav Martinu Centre
Tylova 114
572 01 Policka
Czech Republic

Phone: +420 723 857
e-mail: cbm@muzeum.policka.org
www.cbmpolicka.cz