This year's first issue of Martinů Revue is out!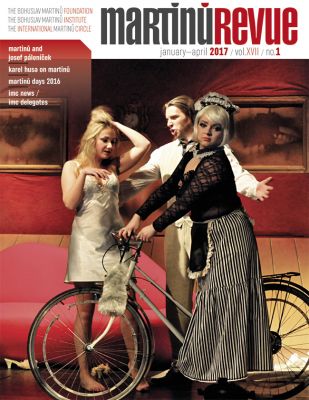 This year's first issue of magazine focused on Czech composer is out. What's in it?
Musicologist Patrick Lambert extensively reviews last Bohuslav Martinů Days 2016, festival which brought to Prague already for the 22nd time set of concerts dedicated to Martinů's music.
About new research on Martinů writes Eva Žižková in an article on history of thrice lost piece Three Songs after Poems by Guillaume Apollinaire, H 197 and Kateřina Maýrová who describes role of pianist Josef Páleníček in Bohuslav Martinů's life.
The Czech-American composer Karel Husa writes about Martinů and his music from his point of view in an article from 1996 which is republished because of Husa's death at the end of 2016.
This year also sadly passed away a Japanese doctor Hideo Sekine, great promoter of Bohuslav Martinů and Czech music as well, who is remembered by his friends and colleagues Mari Tokuda and Petr Holý in new Martinů Revue.
All contents HERE.