Bohuslav Martinů's letters dedicated to Polička
Town Museum and Gallery Polička received an unique gift - a complete set of original letters written by Bohuslav Martinů to his friend Frank Rybka. The descendants of a composer's friend living in America have decided to dedicate letters to the museum. Now the letters were moved to Czech Republic and became part of the most extensive collection of manuscripts and letters of the famous Czech composer Bohuslav Martinů.
Bohuslav Martinů with Frank Rybka, Keene Valley (1947)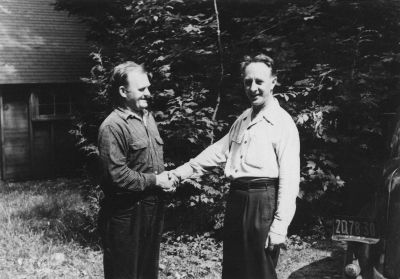 The official handover of letters will take place on March 29 March at 10.00 am in the Bohuslav Martinů's Centre in Polička with the presence of Ambassador Hynek Kmoníček of the Embassy of the Czech Republic in Washington, D.C. and Mayor of Polička Jaroslav Martinů. Public will have the opportunity to see the letters during Martinů Fest in May.