Incantation by Martinů released with the new issue of BBC Music Magazine
The current issue of BBC Music Magazine comes out with an interesting Czech link on the front page. In addition to an extensive interview with Magdalena Kožená and Simon Rattle about their new project, it offers a cover album with Legends by Antonín Dvořák and Concerto for Piano and Orchestra No. 4 (Incantation) by Bohuslav Martinů performed by pianist Garrick Ohlsson and BBC Scottish Symphony Orchestra led by Ilan Volkov.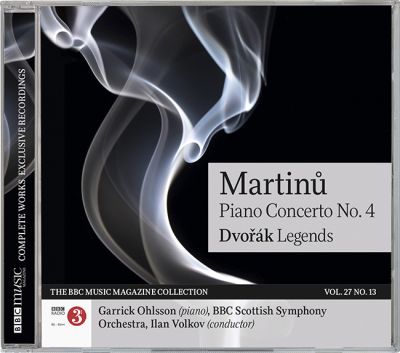 "This month's cover disc features two Czech composers born half-a-century apart, both of whom (under very different circumstances) spent time working in the US. Yet despite their shared well of inspiration being the folk songs of their beloved homeland, the works recorded here - by legendary American pianist Garrick Ohlsson (Martinů) and the BBC Scottish Symphony Orchestra under Ilan Volkov (both works) could almost be from different planets," writes Julian Haylock in the October issue of the BBC Music Magazine.
The current issue is available here.