Prague Radio Symphony Orchestra recorded late Martinů pieces
The pieces Bohuslav Martinů composed between 1953 to 1958, towards the end of his life – Les Fresques de Piero della Francesca, The Parables and Les Estampes – are profound, extraordinary, truly mature gems. Their brilliance, however, is yet to be fully appreciated. The new recording made by the Prague Radio Symphony Orchestra under the renowned conductor Tomáš Netopil affords hope that this will be set right. Supraphon is releasing the album on 10 September 2021.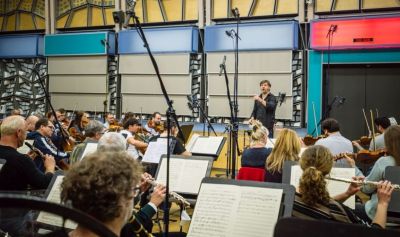 The director of the Prague Radio Symphony Orchestra, Jakub Čížek, said: "The recording of mature Bohuslav Martinů works we have made with Tomáš Netopil is another contribution of ours dedicated to mapping the music of Czech 20th-century giants. There is never enough we can do for these composers and their creation!"
Bohuslav Martinů wrote the works featured on the new album following his return to Europe from the USA. The conductor Tomáš Netopil said: "I am fascinated by the wide range of compositional styles Martinů applied in these diverse pieces dating from his late creative period. Following the Baroque-like Overture, the listeners can immerse themselves in the opulent symphonic sound of Les Fresques, in which intense expression is brought about by dividing the string component into fine microworlds, which further enhances the full-blooded orchestral sound. The symphonic prelude The Rock constitutes an essential piece in the mosaic of Bohuslav Martinů's late music. The end of it indicates a direct thematic inspiration for his next, more extensive opus – The Parables. And when it comes to Les Estampes, the final work on the album, its tenderness and intimate nature reveal yet another facet of Bohuslav Martinů's com­positional bounty, highlighting his great mastery."
The album containing late Bohuslav Martinů gems was released by Supraphon in collaboration with Czech Radio and the Bohuslav Martinů Foundation on 10 September 2021 on CD and in digital formats for downloading.