Gala concert marking the conclusion of Martinu Revisited on 10 December 2010 with Czech Philharmonic Orchestra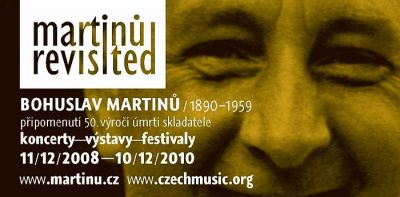 The 50th anniversary of a composer's death is a severe test of the enduring quality of his work. The Martinu Revisited project aimed to verify this on an international scale, and duly succeeded. The thousands of performances of Bohuslav Martinu works have shown that his operas, symphonies, ballets, cantatas and chamber compositions are among the finest to have been created in the 20th century. Moreover, they have proved that owing to their beauty and immediacy they address audiences around the world. At the very end of the two-year project it is evident that the general interest in Martinů will continue to grow.

In 2009-10 Martinu Revisited was one of the most significant music projects in the Czech Republic of recent years. With hundreds of domestic and foreign events, in 2009 musicians commemorated the 50th anniversary of Bohuslav Martinu's death and in 2010 the 120th anniversary of his birth. The purpose of the project was to show just how variegated and abundant the composer's oeuvre is and what influence it had on 20th-century music. The project was joined by all renowned orchestras and music institutions in the Czech Republic. In Prague, the world premiere of Three Fragments from Opera Juliette was given by the Czech Philharmonic Orchestra under the conductor Sir Charles Mackerras and with the singer Magdalena Kozena. A gala concert of the Czech Philharmonic in the Dvorak Hall of the Rudolfinum in Prague on 10 December 2010 with conductor Petr Altrichter and violist Tabea Zimmermann has rounded off the two-year project.