News from the Bohuslav Martinů Foundation - Two significant anniversaries
Director of the Bohuslava Martinů Foundation prof. Václav Riedlbauch celebrated his 70th birthday on April 1st. On this occasion special concert took place at the Academy of Performing Arts in Prague.
Václav Riedlbauch and Vlastimil Harapes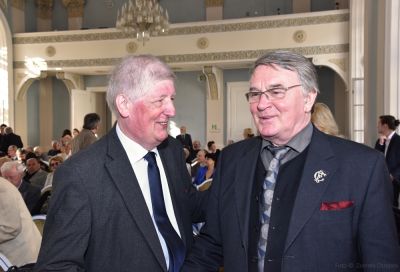 Another special concert was held on 27 March in the church of St. Lawrence, where
prof. Ivan Štraus
celebrated his 80th birthday and was named a honorary member of the Bohuslav Martinů Foundation's Board of Directors by its President prof. Jiří Hlaváč and Vice-President Dr. Stanislava Střelcová.
Congratulations!

prof. Ivan Štraus, prof. Jiří Hlaváč and Dr. Stanislava Střelcová