The official website of the town provides information about its history, places of interest, its recreation and sports, and an overview of accommodation and restaurants in the town and its surroundings. It includes a map of the town, list of events, town council news, and a list of local enterprise, associations, organisations and groups. The website also includes the Czech and English version of the B. Martinu web page with a list of his works and an outline of his biography. URL: http://www.policka.org
Policka: official pages of the town [online]. Cop. Mestsky urad v Policce 2000.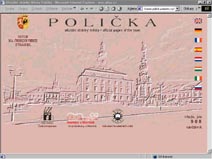 ---
A website that is maintained by a Policka native living in England. History of the town and its surroundings. A part of the website is dedicated to Bohuslav Martinu. Appealing graphic design. English and Czech version. URL: www.policka-martinu.com
Policka/original text O. A. Kukla; english translation Jan Edlman, design Jan Edlman, jr. [online]. Cop. Jan Edlman, 2000.