New issue of Martinů Revue (3.2017) is out!
The latest issue of Martinů Revue (3/2017) of 2017 was published and as always it contains all the latest news, reviews and interviews concerning the Czech composer Bohuslav Martinů, as well as information on recent publications and newly released albums with his music.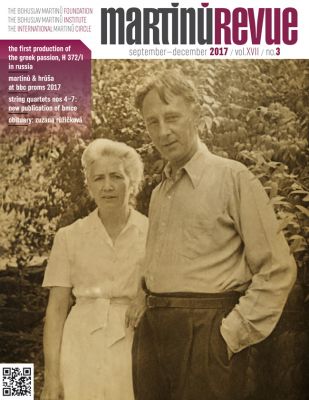 The current issue of Martinů Revue contains the obituaries of two important figures of Czech cultural life, Professor Zuzana Růžičková and Professor Václav Riedlbauch, who died in the autumn of last year and who were great promoters of the work of Bohuslav Martinů. Professor Růžičková recorded, for example, his Concerto for Harpsichord and Small Orchestra, H 246. Her husband, Viktor Kalabis, was a long-time chairman of the Bohuslav Martinů Foundation and, basically, the founder of the Bohuslav Martinů Institute. Professor Riedlbauch was director of the Bohuslav Martinů Foundation, and in recent years, he transformated the Bohuslav Martinů Days Festival and successfully promoted Martinů's work in order to be performed by Czech orchestras and soloists more often.
The rising conductor star and International Martinů Circle President Jakub Hrůša made his BBC Proms debut last year with the Czech program, which also featured the Field Mass, H 279. This concert, which focused on the theme of the Bohemian Reformation, is reminded by Martinů Revue with the enthusiastic reviews by Opera Today, Bachtrack or Music OHM. In addition to the reviews, Martinů Revue brings the transcript of the pre-concert talk with Jakub Hrůša, members of the IMC and the director of Bohuslav Martinů Institute Aleš Březina.
Aleš Březina is the main editor of the newly released volume of the Bohuslav Martinů Complete Edition: String Quartets Nos. 4 - 7, which was published by Bärenreiter and presented at a benefit concert of the Bohuslav Martinů Institute in November. For more information, see the newly released issue.
The BBC film "Music of Exile" about Martinů and his hometown had a Czech premiere within Martinů Fest in Polička last year, 50 years after the first screening. On this occasion Martinů Revue brings interviews with the translator and initiator of the premiere Jan Edlman, director Anthony Wilkinson and producer Brian Large.
All contents HERE.