Graham Melville-Mason turned 85 this year
Graham Melville-Mason is surely well known to all lovers of Czech music. This British musicologist, writer and organizer led British Dvořák Society and also worked as an honorary advisor of the Prague Spring Festival. At the beginning of March, he celebrated his 85th birthday which did not escape attention of cellist and member of the Martinů Quartet Jitka Vlašánková, longtime friend of this great promoter of Czech music and music of Bohuslav Martinů.
Photo Petr Veber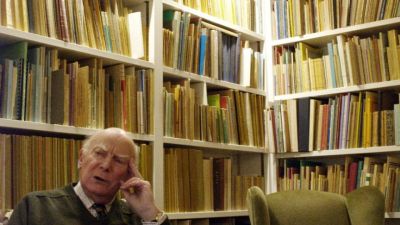 Graham Melville-Mason will turn 85 this year while I celebrate 30 years of our friendship
Jitka Vlašánková
At the end of my studies at the Academy of Performing Arts in Prague, I received a London scholarship from the British Council. I travelled to the great metropolis with the expectation of fulfilling my dream – to study under the renowned cellist and music teacher William Pleeth. A scrap of paper in my pocket contained a phone number that had been given to me before my departure by Oleg Podgorný – who was working at the Music Information Centre at the time. It was the phone of Graham Melville-Mason. I cannot remember what finally made me overcome my fears and timidity and give Graham a call. I did not have any message for him apart from the regards sent by Oleg. Graham understood and assessed the situation immediately – a girl who had set out to follow her dream and goals but was rather lost in that tremendous city of London. That moment marks the beginning of my lifelong attachment to Great Britain. Graham invited me to his typical Victorian home in Muswell Hill. He introduced me to the brilliant pianist William Howard. Together, we played at the annual meeting of the Dvořák Society and later at a recital in one London school. Soon afterwards, Graham and his wife Alex invited me to move in with them. They took me in almost as another member of the family, with the duty of taking their Dalmatian, Sally, out for walks and the privilege of participating in all the social activities of the house. I made the acquaintance of a great many interesting people there, including a number of Czech musicians, whom the Masons would often invite to dinner or whose concerts Graham would take me to attend (like how I met B. Matoušek and the Stamic Quartet at Wigmore Hall).
I still have the big photograph that Yuri Bashmet autographed for me. I had been fascinated by his recital at Wigmore Hall, which I had attended with Graham, and it was no wonder that I was ever so close to falling in love with Bashmet, however much I tried not to make it show. Some two days after the concert I came into my room after breakfast and almost got a heart attack: there, glaring at me from a photograph on the wall, was the devilish face of Bashmet.
Key locations in Great Britain are forever connected with Graham and Alex in my mind. They took me on trips to Windsor and the neighbouring Eton, Cambridge (which is inextricably linked with my first taste of "Bloody Mary"), Bath, and other amazing places.
When I ask myself what had a greater influence on my later life – whether the inspirational cello lessons with William Pleeth or the fact that I had met Graham – the answer is: "Graham". I experienced him like perhaps no other Czech musician has. I had the opportunity to observe him in everyday life, to get to know his rituals. One of them was ironing, which was one of his favourite activities – it allowed him to get some rest and sort out his thoughts. He was also an excellent partner to his wife Alex, for instance, when preparing big dinners for friends and family, and he shared fully in the household chores.
Graham's typical gentle sense of humour is not the usual affinity for comedy and merriment. It is always strongly pointed and frequently expressed with such intricacy that – unless you're paying close attention – understanding often dawns long after the deed is done.
Graham is conservative, he loves his routines and habits. He also likes when new, meaningful habits are formed (one such tradition, which I am personally very grateful for as well, is that every Christmas for the past almost 20 years he has sent me a personal planner filled with useful information about the music scene). And yet he has a very youthful mind, always open to new observations and sensations; he loves discovering things. But perhaps what I appreciate the most about him is that he is a person who is able to listen. I think that is a rare treasure.
Graham also indirectly influenced my professional life. The roughly two to three hundred concerts that I have performed in Britain (unfortunately, I do not keep track) are all thanks to Graham and the fact that he did not hesitate to introduce me to people who later became my partners in music.
The Mason's house in Muswell Hill was my British home both during my studies and for most of my subsequent trips to London.
I have Graham and Alex to thank for the fact that my impression of the "island nation" is quite the opposite of how many other people see it – the weather is splendid most of the year round, the food is excellent, and the people are hearty and welcoming.
I wish Graham the best of health and all the happiness possible! And lots of concerts where he will close the score of the work being performed because its rendition is so perfect that he blissfully immerses himself in it and allows it to carry him into the hazy heights of the sublime.