Prof. Giselher Schubert turns 75
On January, 24th, German musicologist Giselher Schubert turns 75. On this occasion, the director of the Bohuslav Martinů Institute Aleš Březina remembers their cooperation in an article, which will be published in the forthcoming issue of Martinů Revue.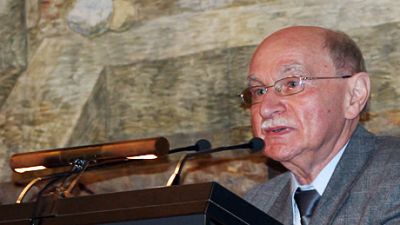 75 years of Prof. Giselher Schubert
Aleš Březina
In January 2019, Prof. Giselher Schubert, the eminent German musicologist and music philologist, will celebrate an important milestone in his life. The topic of his 1973 dissertation at the University of Bonn – in which he studied the instrumentation of the early works of Arnold Schoenberg and which he published two years later as "Schönbergs frühe Instrumentation" (Baden-Baden: Koerner, 1975) – gave no indication that the future focus of his scholarly research could be the music of Paul Hindemith. At the time, he was much more interested in the avant-garde music of his contemporaries, which he intended to study as an academic. However, the offer to preside over the newly established complete edition of the works of that composer in 1974 completely changed the direction of his professional career. For the following 36 years, he was an employee of the Paul Hindemith Institute in Frankfurt am Main, which he headed as director from 1991 until his retirement in 2011. Besides that, he also co-published the journal Musiktheorie from 1986 to 1996. Apart from Hindemith, his editorial activities included and continue to encompass work on the complete critical Kurt Weill Edition. Until 2010 he served as chairman of the Society to Support the Publication of Arnold Schoenberg Complete Critical Edition. He issued numerous studies on music, music theory, and music aesthetics, with a focus on the nineteenth and twentieth centuries. He lectured at Hochschule für Musik und Darstellende Kunst in Frankfurt am Main, which awarded him an honorary professorship.
His impact on Czech musicology is epitomized by the fact that he is one of the founders of the editorial board of the Bohuslav Martinů Complete Edition, of which he is still a highly active member – he is currently preparing the publication of all three versions of the composer's Concerto No. 1 for Cello and Orchestra.
…
You can find the full article in the new Martinů Revue, which you can order here.