The Greek Passion in Leeds
Opera North in Leeds began its season with the opera The Greek Passion by Bohuslav Martinů. The production of the first version of the opera, which was conducted by Garry Walker and directed by Christopher Alden, was premiered on September 14.
Photo: Tristram Kenton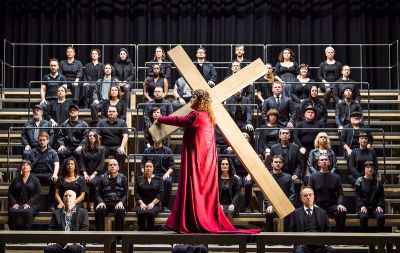 Bohuslav Martinů began composing one of his deepest works, based on the novel by the Greek writer Nikos Kazantzakis, in 1956. Upon completion, he offered it to the Royal Opera House Covent Garden, but after major changes have been made to the opera it eventually had a premiere only few years after the composer's death in 1961 in Zurich. Almost forty years later, Aleš Březina reconstructed the original opera, thanks to whom the first version was premiered 20 years ago at the Bregenz Festival.
Martinů's opera, containing a strong humanistic message, takes place in a village where refugees who fled from a war are looking for a sanctuary. This tale of involuntary exodus is increasingly relevant in a time of ongoing refugee crisis. "It's quite rare that you embark upon a piece which resonates so far beyond the opera house, but this goes beyond music and drama," says tenor Nicky Spence (Manolios).
"At a time when the word "relevance" is bandied around all too frequently in relation to opera, Martinů's really does deserve that tag and it's a credit to Alden and his cast and production team that The Greek Passion hits home so strongly." Mark Pullinger / Bachtrack
"Saturday's premiere at the Theatre and Opera House in Leeds has become a live, successful and impressive performance - thanks to director Christopher Alden, musical preparation by Garry Walker and excellent soloists." Petr Veber / KlasikaPlus.cz
Performances:
14 September 2019, 7.30 pm - premiere
21 September 2019, 7.30 pm
27 September 2019, 7.30 pm
19 October 2019, 7.30 pm
2 November 2019, 7.30 pm
9 November 2019, 7.30 pm
​16 November 2019, 7.30 pm