Photo project Martinů in America, part of the Czenglishman in New York exhibition, is available online
The exhibition Czenglishman in New York is open for the whole summer in Czech Center New York. The exhibition was put together by the Center in close cooperation with the Bohuslav Martinů Institute in Prague as part of the program cycle 2021: The Year of Martinů in America. It captures an important American period in the composer's life (from 1941 to 1953 and briefly in 1956). An integral part of the exhibition is a special photo project entitled Martinů in America, put together by New York-based Czech photographer Kateřina Dvořáková Manková in the Spring of 2021. The photo project is available online too.
First part of the photo series
Second part of the photo series
Liberty Island, photo Kateřina Dvořáková Manková
In the spring of 2021, the Czech photographer now living in New York, Kateřina Dvořáková Manková, accepted an invitation to capture the places where Martinů's significant works originated. The exhibition highlights the current atmosphere of these places, many of which are already different today than 80 years ago, but can still help us understand the emotional context which surrounded the composer back in the day. The photographer says about the experience: "The project 'Places of Martinů in the USA', was very inspiring and enriching for me. Finding these places after almost 80 years was a little challenging at times and required some imagination since many of them look different today or no longer exist in their original context. Therefore, I tried to capture their current atmosphere in the photos. I based my work on the information provided by The Bohuslav Martinů Institute, and traveled across the states of New York, Massachusetts and Connecticut following in the footsteps of this amazing composer."
Carnegie Hall, photo Kateřina Dvořáková Manková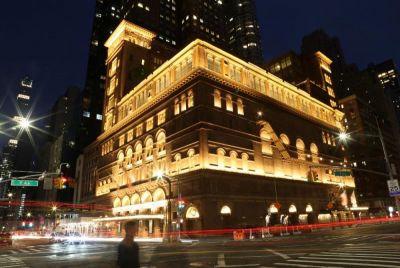 You will also find a number of original new recordings and masterclasses by a variety of Czech and American performers at www.czechcenter.com.