New scores of unknown compositions by Bohuslav Martinu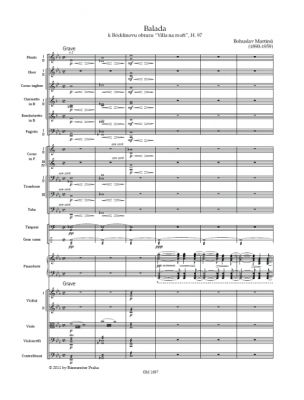 Nocturne No. 1, H. 91, and Ballad to Boecklin's Picture "Villa by the Sea", H. 97
Among the 135 early opuses by Bohuslav Martinu (from before the composer's departure for Paris in 1923) we also find sizeable symphonic and stage works. A great majority of them are not bound to any publisher, existing only in autograph form and deposited in archives. As hire material, the publishing house Baerenreiter Praha presents two compositions from this early period for the first time – the Nocturne No. 1, H. 91 and the Ballad to Boecklin's Picture "Villa by the Sea", H. 97.
The circumstances surrounding the origins of both works are unknown. According to correspondence, we may assume they emerged during the years 1914–15 in Policka, where Martinů taught violin during the first world war and where he wrote works that were often inspired by extra-musical subjects, for example from the spheres of literature or painting.
Due to his young age and low societal status, having orchestral works performed was improbable and due to the war out of the question, which can be readily seen in the scores. Martinu wrote them quickly and without revisions. It also seems he had no interest in later releasing them, for he did not include any orchestral works from before the year 1918 in his later works lists.
The common characteristics of these early works – the slower tempos, the freely unfolding passages deliniated by harmonic changes, the continuously developing melodies not having the character of closed themes – show that in the outer formal construction, but also in the inner organization of harmonic and melodic elements, a confrontation occurred between late romantic and impressionistic styles. Since there is only a single extant source for each work, it was necessary in those places that remained incomplete or incorrect to offer a solution that would best respect the composer's style and intent at the time.
The Nocturne and Ballad offer a new understanding of the context from which Bohuslav Martinu's later works arose and a very interesting diversification to today's concert repertoire. The performance materials are available on hire at Baerenreiter Praha.
Contact:
Pujčovna provozovacích materiálu
Perunova 1412/10, 130 00 Praha 3
tel.: 274 001 925, 274 001 928, fax: 272 652 904
e-mail: pujcovna(add)baerenreiter.cz
Bohuslav Martinu
Nocturne No. 1, H. 91
Editor: Sandra Bergmannová
Premiere: 1 October 2009, Prague State Opera; Conductor: Ch. Olivieri-Munroe
Orchestration: 2222-4030-ar.-pf.-ptti-archi
Duration: 8 min.
Publisher: Baerenreiter Praha (Cat. No. OM 1696)
Bohuslav Martinu
Ballad to Boecklin's Picture "Villa by the Sea", H. 97
Editor: Sandra Bergmannová
Premiere: 16 October 2009, Brno Philharmonic; Conductor: Jakub Klecker
Orchestration: 2332-4031-timp.-gr.c.-pf.-archi
Duration: 19 min.
Publisher: Baerenreiter Praha (Cat. No. OM 1697)