The Parables with Brno Philharmonic and Petr Altrichter
Brno Philharmonic offers in its 60th season concerts with former chief conductors Aldo Ceccato, Petr Vronský, Aleksandar Marković and Petr Altrichter. Last mentioned was chief conductor of Brno Philharmonic for 7 years and it´s him who prepared today´s programme in Janáček Theatre.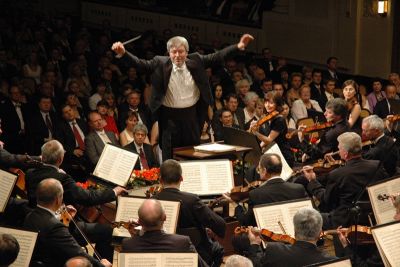 The orchestra will perform Jan Novák´s Philharmonic Dances, which was composed in 1956 for Brno Philharmonic because of the fact that he was given the chance to play his Concerto for two pianos along with his wife at first year of international festival of contemporary music Warsaw autumn. Young Brno Philharmonic with chief conductor Břetislav Bakala also performed Janáček´s Sinfonietta and Bohuslav Martinů´s Symphony no. 3.
Compositions of Martinů and Novák who studied under him in New York were not officialy banned but not played frequently. Yet Brno Philharmonic always had a strong relationship with these two composers and that is why Martinů´s piece The Parables, H 367 is included in the programme. This work was composed solely for Charles Munch and it was him who gave the premiere of it with Boston Symphony Orchestra in 1959. This philosophical and deep composition consists of three parts, the Parable of a Sculpture, the Parable of a Garden and the Parable of the Labyrinth and each one of them is accompanied with a short motto from Antoine de Saint Exupéry´s book Citadelle, which Martinů was very fond of. In a letter to his friend Miloš Šafránek he even wrote that these texts express his deepest philosophical beliefs.
"And the sculptor fixed the likeness of a face in clay. And you walked by and passed before his work and you glance dat the face and then walked on your way. And then it happened that you were not quite the same. Slightly changed, but changed, turned and inclined in a new direction, olny for a while perhaps, but still for a while.
A man thus experienced an indefinable impulse: he lightly fingered the clay. He placed it in your path. And you were caught with the same indefinable impulse. And it would not be otherwise if a hnudred thousand years had intervened between his gesture and your passing." The Parable of a Sculpture, Antoine de Saint-Exupéry, Citadelle (chapt. 155)
The last part of the programme belongs to selection from suites from Romeo and Juliet by Sergei Prokofiev which was premiered in Brno in 1938.
Brno Philharmonic and Petr Altrichter on 28 January at 11.00am and 7.30pm
Brno Philharmonic and Petr Altrichter on 29 January at 7.30pm
Photo: Brno Philharmonic