Sol Gabetta with Martinů´s Concerto for Violoncello No. 1
Violoncellist Sol Gabetta will perform for the second time this month Concerto for Violoncello and Orchestra No. 1, H 196 III in Schausspielhaus with Dresdner Philharmonie under French conductor of Armenian descent Alain Altinoglu.
Following performances:
Saturday 30 January at 7.30pm
Sunday 31 January at 11.00 am and 7.30 pm
Sinfonieorchester Basel, Michal Nesterowicz and Sol Gabetta | Concerto for Violoncello and Orchestra No. 1| 20 January 2016, Photo Benno Hunziker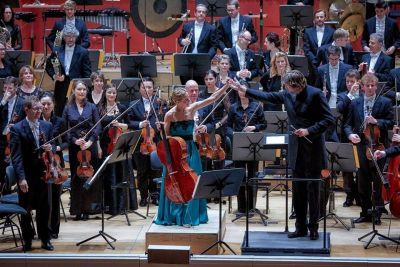 Bohuslav Martinů composed this Concerto already in 1930 but he edited it two times. For a first time 9 years later and for a second time in 1955 when he heard Concerto on the radio and was horrified by its orchestration. Last two versions of this piece are dedicated to cellist Pierre Fournier.
Sol Gabetta in an interview with the cellist Stephan Koncz from Berliner Philharmoniker explained her opinion about Martinů´s Concerto.
"It was an interesting discover for me... I think this piece for one time is a little bit complicated. So you need time to come in but when you come in you discover a magnificient concerto. (…) Actually I am loving this piece every time every day more and more because there is minimalism inside and in the same time it´s a very lyrical, very virtuosic and happy."