Happy birthday! Jiří Bělohlávek turns 70 today
Our warmest wishes go to the world famous Czech conductor Jiří Bělohlávek who turns 70 today on 24 February 2016.
Bělohlávek's history of championing Martinů can be traced back to as early as 1984, when he staged Martinů's 1959 The Greek Passion in Prague, only to repeat this with a stunning success at the 1995 BBC Music Weekend at the Barbican. His devotion to championing Martinů is incessant. His extensive discography includes a whopping number of 29 Martinů recordings so far, featuring guest artist such as Isabelle Faust, Cédric Tiberghien or the acclaimed Czech pianist Ivo Kahánek, with whom he brought Martinů's Piano Concerto No. 4 (Incantation) to Royal Albert Hall in 2007 as part of BBC Proms.
His compilation Martinů: The 6 Symphonies (2011) with the BBC Symphony Orchestra attracted much of international critical acclaim, including the renowned Gramophone Award for the best recording of the year, being the first conductor since Herbert von Karajan to receive the Gramophone Award for Orchestral Recording two years running. In 2012, Queen Elizabeth II awarded Jiří Bělohlávek the Commander of the British Empire (CBE) for his services to music.
Bělohlávek's life-long passion for music of Bohuslav Martinů continued after his comeback to Prague where he began his tenure as the Czech Philharmonic's Chief Conductor in 2012 – the very same orchestra Martinů was part of between 1920 – 1923. He brought Martinů to the orchestra's tours around United Kingdom and recently led the production of the revival of Martinů's less performed opera What Men Live By, premiered in December 2014 in Prague. The performance, soon to be released as a CD as well, won a nomination for 2014 International Opera Awards.
Jiří Bělohlávek with a present from Czech Philharmonic © Petr Kadlec
Jiří Bělohlávek´s birthday concert with the Czech Philharmonic took place already on 13 February in packed Rudolfinum´s Dvořák Hall, Prague, where hundreds of special guests and friends of Bělohlávek had the opportunity to witness an evening full of the honoree´s favourite music and soloists. Jiří Bělohlávek´s former student and president of the International Martinů Circle Jakub Hrůša conducted the first half of the concert, and performed Martinů´s Overture for Orchestra, H 345.
Jiří Bělohlávek with a title for his lifetime achievement © Foto Atelier Petr Našic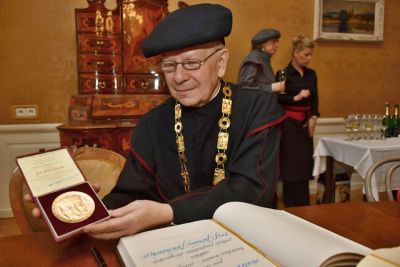 After the concert, Czech Minister of Culture, Mr Daniel Herman, awarded him the Artis Bohemiae Amicis award for promoting the Czech culture both locally and abroad. On 22 February, Jiří Bělohlávek was awarded with the title Doctor Honoris Causa for his lifetime achievement. Only 15 people were given this honour until now, for instance Václav Havel, Josef Suk, Zuzana Růžičková or Sir Charles Mackerras.
Congratulations!