"The Epic of Gilgamesh" was awarded the Best Edition 2016
"The Epic of Gilgamesh" volume of the Bohuslav Martinů Critical Edition was awarded the German Music Edition Prize for "Best Edition" of 2015. The German Music Publishers Association grants this award since 1991 "to outstanding editions of sheet music and music books." The award will be presented to the Bärenreiter Publishing House at the Frankfurt Music Fair on the 8th April 2016.
Aleš Březina, editor of the awarded volume comments: "I am delighted that the Bohuslav Martinů Institute has received for its longstanding efforts the most prestigious German award in the field of music philology. It is also thanks to the Bohuslav Martinů Foundation which gave the impulse to establish the Institute in 1995 and has been financially supporting it ever since. We are also extremely grateful to Bärenreiter publishing house which published The Epic of Gilgamesh as the first volume of the Bohuslav Martinů Complete Edition in 2015. I wish that all of the ten volumes we are currently working on are met with equal honours."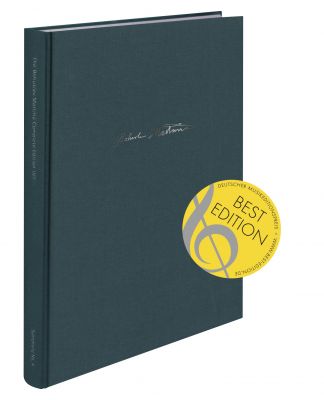 Short extract from the jury's statement reads: "The jury appreciates the high scientific and publishing excellence of this edition. "The Epic of Gilgamesh" volume contains not only an elaborate Foreword with excerpts from the correspondence between Martinů and Paul Sacher, but also relevant facsimile pages from autograph sources as well as alternative versions of various passages in footnotes. All this allows a comprehensive insight into the genesis of the work, one of the most successful by the Czech composer."
The Bohuslav Martinů Complete Edition formally affirms Martinů's pre-eminent position as one of the classics of the 20th century music. It will include more than one hundred volumes to be published over the next fifty years. Among its subscribers are important European and American universities, music archives and other significant music institutions around the world.
More information....