Bohuslav Martinů's Cantatas nominated for the BBC Music Magazine Award
The Supraphon album with Bohuslav Martinů's four cantatas from the Czech Highlands has appeared among three albums nominated for the BBC Music Magazine Award in the category of choral works (Choral Award). The cantatas on texts by Miloslav Bureš were recorded by the Prague Philharmonic Choir with choirmaster Lukáš Vasilek and soloists. It is another of the prestigious awards for this album after being named Editor's Choice in two British magazines focused on classical music - Gramophone and BBC Music Magazine.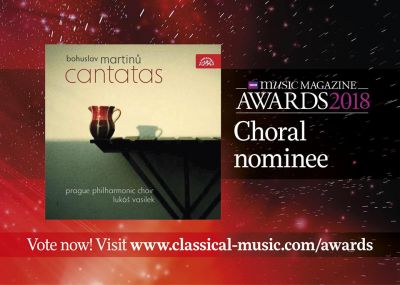 "Every new Martinů release from Supraphon over the past few years has been treasurable, but this compendium offers the composer's miraculous poetic cantatas inspired by folk wisdom and timely ecological parables. Unorthodox instrumental combinations and superb singing heighten the pleasures of this recording." - BBC Music Magazine
Martinů's cantatas, including the Opening of the Springs, the Legend of the Smoke from Potato Tops, A Dandelion Romance and Mikesh from the Mountains), were recorded in accordance with the 4th volume (with these four cantatas) of the Bohuslav Martinů Complete Edition (ed. Vít Zouhar), which came out last year. The jury of critics chose this album from last year's five-star discs as one of the three in the choral category, the winner will be determined by public vote that ends on February 19th. The winning recordings will be announced at a ceremony at London's Kings Place on 5 April.
You can vote for this recording here: http://awards.classical-music.com/