Memorial to Lidice in Prague with Czech Philharmonic
For upcoming three evenings guests of Prague's Rudolfinum can look forward to Czech Philharmonic's concerts conducted by Manfred Honeck for the last time as orchestra's Principal Guest Conductor. The programme will offer Concerto for Violin and Orchestra in A minor, Op. 53 by Antonín Dvořák with famous soloist Anne-Sophie Mutter, Symphony no. 7 in A major op. 92 by Ludwig van Beethoven and Bohuslav Martinů's Memorial to Lidice, H 296.
Anne-Sophie Mutter & Manfred Honeck © Harald Hoffman
Bohuslav Martinů lived outside his homeland for most of his life, but he was very concerned when the country was under threat during WWII as it can be heard in his Double Concerto, Symphony No. 1 or Field Mass. The Nazi extermination of the village of Lidice in June 1942 was a shock to Martinů. Such an event had its impact also on many artists at the time and afterwards. In music, there are many works by Czech composers. The one which has had greatest impact internationally has been the eight-minute orchestral work of Martinů, written quickly in the following year and completed on 3 August 1943 in Darien, Connecticut.
Bohuslav Martinů at the railway station in Darien © CBM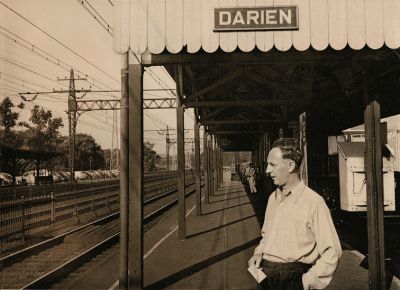 The work was dedicated "To the Memory of the Innocent Victims of Lidice" and was first performed in Carnegie Hall, New York on 28 October 1943, the 25th anniversary of the foundation of the Czechoslovak Republic in 1918. The orchestra was the New York Philharmonic under Artur Rodzinski. The first Czech performance came 70 years ago on 14 March, the eve of the seventh anniversary of the German occupation of Czechoslovakia, when the Czech Philharmonic was conducted by Rafael Kubelík.
The following performances are to be given in Prague:
27 April 2016, 7:30
28 April 2016, 7:30
29 April 2016, 7:30